Posted by: American Coins & Gold – January 15th, 2018 – Our Top 5 Picks For Most Rare Coins
At American Coins & Gold, we've learned so much about the valuable rare coins industry over the last 20 years.  We provide a safe & secure place to sell, buy, and get your most rare coins appraised at our 6 locations across New Jersey and New York.  There are many factors that influence how much a rare coin is worth including demand, collectability, rarity, supply, condition, misprints, historical significance and more.  Often times rare coins are worth even more than the seller knew they were worth.  In this blog post we will be looking at the Top 5 Most Valuable Rare Coins In America to help you understand what makes coins have value and how to capitalize on them!
#5 – 1983 Silver Dollar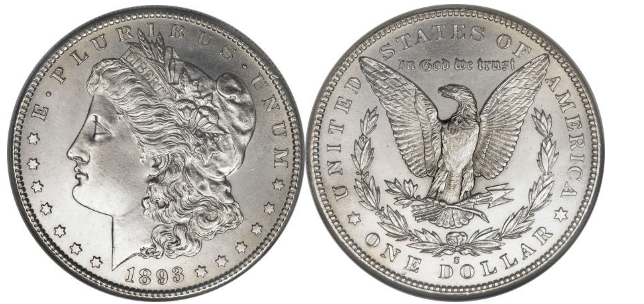 There were only 100,000 1983 Silver Dollar minted in that year which impacts why this coin is worth so much.  It is estimated to sell for an average of half a million dollars in the open coin selling market!  In the late 1800's the country was going through a depression which resulted in the US melting much of the silver for face value that year rather than be turned into currency.  Due to its demand and scarcity this is definitely a rare coin that can make you rich if you find it in your coin collection.
#4- 1794 Silver Dollar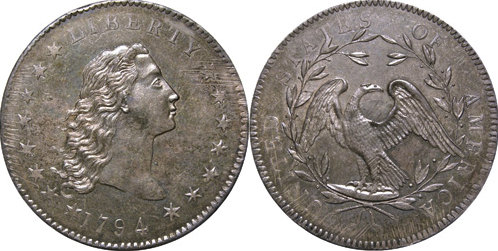 Believe it or not, an extremely pristine ultra rare 1794 silver dollar has sold for an astonishing $10,016,875 at public auction in 2013!  That makes it the first coin to ever be sold over the $10 million dollar mark at a public auction.  These were the first US silver dollar coins in the US during 1974 which is one of the major reasons that it is so valuable.  They are known for the flowing hair on the face of the coin.  Because of their extreme value, it is also known to be a highly counterfeited coin so beware of this when it comes time to buy or sell one of these.  Your best bet is to always take your coin to a trusted coin dealer who has the experience and knowledge to evaluate your rare coins authenticity.
#3 – 1877 Gold Pattern $50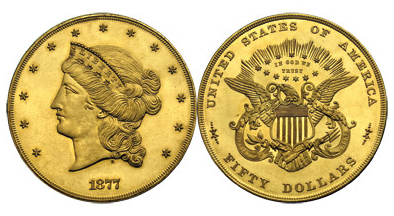 The next rare coin on our most valuable list is the 1877 Gold Pattern which is a $50 piece of currency.  It is famously known as the "Half Union" coin because $100 gold coins were referred to as unions.  There were 2 of these coins produced as samples however the Half Unions never got the approval from congress and therefore were never put into circulation.  The value on this coin is said to be an amazing $15 million dollars with the only known specimens located in the Smithsonian Institution.
#2 – 1907 Indian Head $20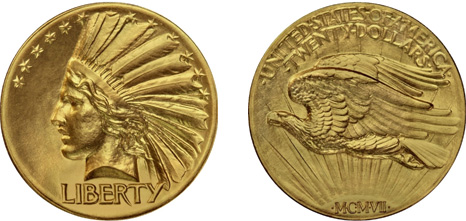 Augustus Saint-Guadans sculpted this gold pattern coin which is now in a privately held collection.   It is famously referred to as "Teddy's Coins" because of Theadore Roosevelt's involvement in having this coin created which was a redesign of the United States $20 and $10 coins of the time.  The owner of this coin apparently rejected an offer for $15,000,000 for this coin which is a mind blowing fact to think about.  That makes this rare Indian head coin worth over fifteen million dollars, an amount that can change many peoples lives.
#1 – 1849 $20 Liberty Gold Piece – The Most Valuable Of All Rare Coins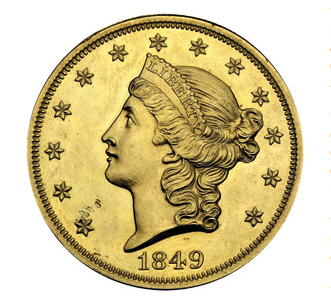 We present to you our #1 pick for the most rare coin on our list, the 1849 $20 Liberty Gold Piece.  Known as the mother of all extremely rare coins, this coin that is amazingly estimated to be worth $20 Million Dollars!  It is currently on display at the Smithsonian Institution.  It is nicknamed "The Coin" which pretty much speaks for itself.  This incredibly unique coin is known as the pinnacle of the super rare and exclusive coin industry.
We always recommend getting your rare coins evaluated by your local trusted coin dealers to ensure you get the proper payout for your coins.
It is important to beware of mailing scams, Craigslist, eBay, and any other method that put yourself at risk.